Summary of current and planned features
---
Hello there!
Some days ago, I released an early prototype of "Deep Sleepin' Girl" and I didn't expect that you would receive that well!
In 2-3 days it was added to +20 colections! Wow!
Therefore, in gratitude, I will tell you what I'm doing now and what i'm planning to add to the game!
--| Completed features (or almost tompleted): |--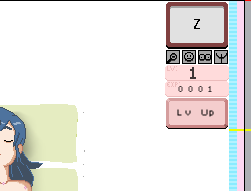 Reorganised UI

Contact tolerance (pink bar)
Sleep status (From ZZZZ to Z)
Experience (Small numbers) use to "buy" things such as level, tools, or skills
Player Level (Big number), these values act as variables that determine how much you can interact with the girl without get caught.
--| Planned features: |--
Dress/undress
Anal, vaginal and oral animations
Left/right hand interactions
Some character customizations
Save/load system.
I will be releasing a new version of the game when any of these features are ready and the game is at least playable, so stay tuned!
Also, if you want to support mi work you can do it via Patreon or via the "Support this game" button that appears below the game frame.